The fall sports season is winding down, and the Fox Chapel Area boys and girls cross country teams are exactly where they want to be at this time of the year – WPIAL Class 3A Section 4 champions. This is the boys fifth consecutive section title, while the girls earned their first team gold medal in five years. It's also the first time since 2017 that both teams have won their sections in the same year.
Additionally, a now healthy Rowan Gwin, a senior and one of the most elite runners in the WPIAL, repeated by winning the boys overall individual title. Junior David Black was the Foxes' second finisher.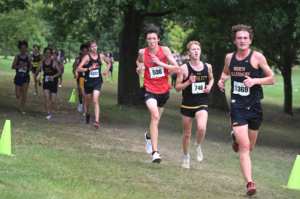 "It was a goal of both teams to win," says coach Tom Moul. "Rowan won the race last year, so this is another great accomplishment for him. David is a very patient and calm runner whose hard work is really starting to pay off."
For the girls, it was the Foxes' depth that propelled them to the win.
"Kiski Area had two girls who finished one and two, but the difference was we had a lot of good runners participating instead of just a few top ones," explains coach Moul. "Senior Clara Kelley finished first for us. Junior Sarah Michalak was second, followed closely by freshman Cecilia Ressler."
Boys Inspired by Multiple Titles
Rowan was a bit surprised with his win since it was only his third race of the season, but says he is already ahead of where he was last season due to being a year older and having multiple years of good training.
"As a team, it was great to get a fifth section title," Rowan says. "The depth of the team is the best we have had in a while, and everyone steps up when they need to. Senior Max Kaizer had a great race and really helped the team secure the win. Coach Moul has done a great job getting the guys ready this season, and we are looking forward to competing at WPIALS."
David finished more than 1:15 faster than last year and was pleased with that improvement, but knows as they get into the tougher part of the season and WPIALs, the main goal is to be where they need to be as a team.
"It's really nice to see people like Max step up and improve to where they need to be as the season goes on, and it's great to have Rowan back," David says.
"David just keeps getting better and better and has made tremendous progress each year," coach Moul says.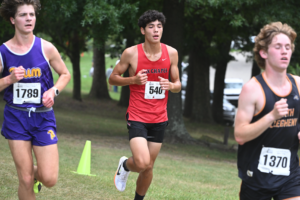 Additionally, sophomore Michael Costello finished third for the team and has had a very good season so far.
Juniors Nicky Clump and Doug Lisotto; senior Dylan Berman; and freshmen Harrison Parker, Logan Shirk, and Nolan Gwin also contributed to the group winning the boys title.
As of now, Coach Moul's plan is to take three seniors, four juniors (if Ethan Vaughan is healthy), and one sophomore to WPIALs.
Girls Show Promise with Good Mix of Talent
Clara has had more than her fair share of battles with injuries, but it has only made her more determined to push past them to help her team. And it has set an example for her younger teammates as to the power of tenacity and patience.
"Winning the section title means so much to both me and the entire team," Clara says. "This was my last chance to go out there and try to win this title, which has been my goal for this team since my freshman year. We've come so close every year but have always come up just a little bit short. This year our team has really improved with the help of our freshmen Cece Ressler, Iris Minturn, and Maggie Carter, as well as with the dedication and improvement of our returning varsity runners Sarah Michalak, Yuqi Zhou, and Marin Airik. We knew we were capable of getting this section title, but with the horrible weather conditions (85 degrees and sunny), it was going to be a hard fight. I'm so incredibly proud of this team for pushing themselves to their limits to win this title."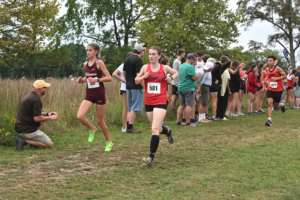 Sarah improved her time this year dramatically, by about two minutes. Coach Moul knows why.
"Sarah had one of her best races of the year, and I believe it's because of how motivated she is to have a good season," he comments. "During practices and on her own, she has been running more miles than anyone else on the girls team."
Sarah adds, "I think this is a pretty good improvement from last year's time, and I'm excited to keep competing. I was pleased with my performance individually and the team's performance as well. I think we've all been working really hard, and it's definitely paid off. It makes me very hopeful for what we can accomplish the rest of this year and next year because of our freshmen, who have lots of potential."
Other members of the girls varsity team who participated at the Kiski Invitational were junior Yuqi, freshmen Iris and Maggie, seniors Emily Harajda and Maddie Ivanusic, and sophomore Zelia Herald.
The Foxes WPIAL girls team will include one senior, two juniors, one sophomore, and three freshmen.
"Every one of these (boys and girls) runners had 'win sections' as one of their team goals they submitted at the beginning of the season," shares Coach Moul. "It was also a goal of the coaches. The girls title has been especially elusive over the past few years, so it was great to get that one. Hopefully, this success will carry over as we move toward the WPIAL championship meet in a few weeks."