It's been nearly 10 months since most of the Foxes boys divers have been able to get in the pool to work on their skills. Dry land workouts have had to make do. So, it's an understatement to say they are more than thrilled to get back in the water and compete again.
Even so, Coach Vernon Yenick, who has returned to the helm after a year away from the program, says he thinks this is the best boys team that he's had to date in the 13 seasons he has coached at Fox Chapel Area. One reason for his confidence in the team is the return of senior David Manelis, the reigning WPIAL Class 3A champion.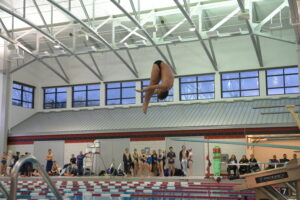 Coach Yenick has been very impressed with how much David has improved, as well as with the other divers on the boys' side – seniors Aidan Ireland, Tristan Vettier, and Jake Mulhern, and freshman Jake Siddons.
"David is diving unbelievably well and has sharpened up all of his dives," observes the coach. "He is doing more difficult dives and jumping two- to three- feet higher than he did before. I fully expect him to win WPIALs again and I am hopeful he will become the next state champion as well." Last season, David earned third place at the PIAA boys diving championship.
David is feeling some pressure to perform but says it's mostly self-imposed. It's reasonable to understand his own expectations after his WPIAL performance in 2019-2020 resulted in a score 100 points higher than the runner-up.
"The pressure I feel is within myself," he says. "I personally would like to do a lot better this time and maybe even beat some records. I think the key between medaling and winning states will depend upon me hitting all of my hard dives and getting high scores for them."
Aidan, Tristan, and Jake also have a good shot at advancing to WPIALs this year.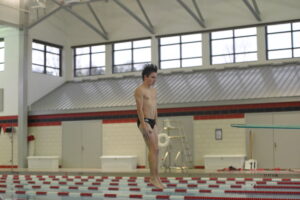 "Aidan doing very well this year," says Coach Yenick. "He's really cleaned up all of his dives and has better form and spatial awareness. I fully expect him to make WPIALs and place high. Another senior with a tremendous amount of talent and strength is Tristan. I look forward to him placing high at WPIALs too."
And then there is Jake Mulhern, who was a bit of a surprise – the good kind – last year when he joined the team as a junior. His lifelong interest and skills as a freestyle skier who loves to attack aerial stunts made it easier to pick up diving techniques. In his maiden diving season, Jake Mulhern had the necessary points to qualify for WPIALs, but the difficulty of his dives held him back. That's something he intends to change.
"Jake has the ability to twist and somersault fast," Coach Yenick says. "I'm looking forward to his performance this year. He just has a natural ability and has progressed very rapidly in all of the diving categories."
Freshman Jake Siddons is also someone to watch, predicts the coach. "While Jake is new to the sport, he is able to pick up techniques easily and listens well. I expect him to be the face of Fox Chapel Area diving in future years."
David, a two-time captain who just committed to dive at West Point in the fall, affirms that the boys team is doing really well. "Everyone is pushing each other to do better and we're also supporting each other. In my opinion, all of our boys are capable of making it to WPIALs this year and I'm really hoping that happens."
David also is very thankful that Coach Yenick is back and adds, "This is my last season with him, and I would really like to make him proud. He also has a lot of useful insights that I and my teammates could use."