For the 17th year, hundreds of wrestlers, parents, spectators, and volunteers will descend upon Fox Chapel Area High School on January 19 and 20 for the Allegheny County High School Wrestling Championships – one of the largest and most exciting tournaments in the WPIAL and City League.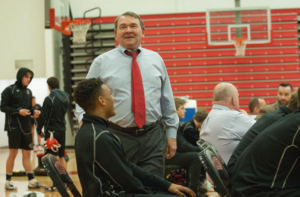 Tournament founder and director Ron Frank, who's led the Foxes' high school wrestling program for 37 years, predicts a prospective total of 38 teams, more than 560 grapplers, and over 850 individual matches.
Coach Frank is known for his legendary support of and passion for the sport, and this weekend extravaganza is a perfect demonstration of his dedication to promoting it. The "celebration of wrestling," as he has dubbed it, is a huge undertaking to coordinate, but it is a labor of love for the coach and co-organizer and assistant Bob Siar.
Assistants Joe Bursick, Michael Frank, and Timothy Frank also pitch in many hours, as well as nearly a hundred volunteers who include parents and wrestlers, both past and present, about 30 medical professionals and trainers, teachers, and the high school's graphics and print shop. Even the school's music department gets involved as students get the weekend off to a good start with a rousing rendition of the national anthem.
Coaches Frank and Siar have thought out about just about every detail for the one-of-a-kind event, which also serves as the Foxes' wrestling program's main fundraiser each year, and the entire weekend has something to satisfy even the most die-hard wrestling fans.
The matches showcase some of the area's of top wrestlers, and fans are treated to some of the most exciting matches they'll see all year. Not only are the Allegheny County High School Wrestling Championships a thrilling spectacle to witness, they are made even more enjoyable because herculean efforts are employed to keep up the momentum and eliminate needless downtime between matches.
That is partly accomplished by running eight mats between both of the high school's gymnasiums during Friday's matches, and then six or seven mats are used on Saturday until the field is narrowed down to the finalists. This year, the tournament directors have added FloArena electronic capabilities that will enable fans, coaches, athletes, and the media to see results, who's next on deck, and the location of each match.
Darlene Whelan, who has run the concession stand since the tournament's inception, has three boys who once wrestled for Coach Frank, a daughter who once served as team manager. Therefore, she has seen hundreds of bouts in her life and says, "At other tournaments you can sit there for eight hours just waiting and waiting with no idea of what's next. But at this event, things are run so well. After all of these years, this tournament remains the best-run, most efficient program I've ever seen."
Unfortunately, she doesn't get to see many of this event's matches because she in charge of feeding a hungry crowd that makes between 1,500 to 2,000 trips to the concession stand and cafeteria. It's actually a process that begins long before the event. In the weeks before the championships, she prepares numerous spreadsheets to indicate what groceries, snacks, and beverages she'll need to purchase; a schedule of concession stand volunteers and their assigned shifts; and who has volunteered to donate food items and what they are bringing. The week of the tournament, Darlene's home kitchen turns into a frenzy of activity.
"Every year I say it's my last year, but I keep doing it because of my great respect for Ron," she says. "I have the utmost respect for what he's done for my kids and for the lessons he teaches his wrestlers and students. I honestly believe he is a father figure to these kids and he is so good to them. He has such integrity that you can't help but admire him."
Darlene's son Derek Evans, 32, who graduated from Fox Chapel Area High School in 2003 and now is a financial advisor with Wells Fargo, takes a vacation day each year to work the event, and also pitches in to help out his mother in the kitchen. He says it's one of his favorite weekends of the year.
"I love being around wrestling and I'll do anything to help out Ron and Bob," says Derek, who played football, baseball, and wrestled in high school, all under the coaching of Ron Frank. "Working the tournament is a lot of work, but rewarding, and it is so much fun that it doesn't seem like work. I love watching wrestling and any chance I get to be around wrestling and Ron is a chance I can't pass up. His commitment to the sport is more than I've ever seen in anyone else. He constantly tries to keep it relevant by making it fun and by rewarding hard work, and he has unmatched passion for the sport and compassion for the kids."
Darlene adds, "The competition at the tournament is just incredible. It's a fabulous event and the main fundraiser for the Fox Chapel Area High School wrestling program. People who haven't been to this tournament are really missing out, especially anyone who loves wrestling."
The Allegheny County High School Wrestling Championships at Fox Chapel Area High School will be held from noon to 6 p.m. on Friday, January 19. Wrestling begins at 10 a.m. Saturday, January 20, and will go until the final matches and awards ceremonies are completed at 9:15 p.m. Tickets will be available at the door.