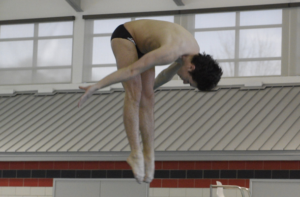 Jonah Cagley couldn't have ended his last hurrah at the Fox Chapel Area natatorium any better than he did amid the sweet fanfare of senior night on February 14. The two-time WPIAL Class 3A diving champion broke his own school scoring record for a third time in three years – by a whopping 60 points this time – to further solidify his ranking as the school's all-time best diver. Jonah's new school record is 394.60 points.
The senior's next hurdle is the WPIAL diving championships that will be held February 23 at North Allegheny Senior High School, beginning at 10 a.m. Joining Jonah at the championships will be fellow senior Magnus Loeffler, a four-time WPIAL qualifier; sophomore Aidan Ireland; and two-time WPIAL qualifier David Manelis, who also advanced to the PIAA championships last year as a freshman.
If Duke-recruit Jonah repeats his stellar performances of past years, he will advance to the 2018-2019 PIAA Swimming and Diving Championships. The diving portion will be held March 16 in Kinney Natatorium on the campus of Bucknell University. Only 24 divers from across Pennsylvania will qualify to advance to the state competition.
"Jonah is, by far, the most prolific diver that has come through the Fox Chapel Area School District," says diving coach Vernon Yenick, who also coached JB Kolod, the previous record-holder and University of Virginia standout diver, before Jonah arrived four years ago. "If Jonah wants to win bad enough, and I feel he does, he will."