When recent graduate Arnold Vento found out he was selected as the Western Pennsylvania Positive Male Multisport Athlete winner for 2019-2020, he could not have been more surprised. But it is a well-deserved honor for the rising Penn State freshman who hopes to become an aerospace engineer.
When reviewing all of the nominations, the Positive Athlete selection committee looks for student-athletes who are optimistic, encourage their teammates, have the ability to admit imperfections, give 100 percent in all occasions, and put the team over personal goals. Those selected also showed their energy for excellence in the classroom and dedicated service to their community. Each year, more than 1,000 applications from Western Pennsylvania area schools are received.
During his years at Fox Chapel Area High School, Arnold was on the golf, basketball, volleyball, and unified track teams. In all, he was awarded seven letters for his athletic contributions to these teams.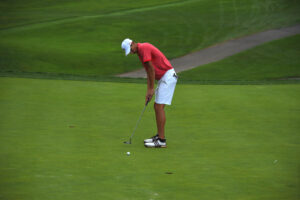 "I was really honored to learn I received that award," says Arnold, who was a quad-sport athlete while playing sports for the Foxes. Arnold played on the 2019 boys golf team that won the state championship for the first time in school history.
"Golf was really the last hurrah playing with all of my closest friends," says Arnold. "At one time we all played basketball together, so it really ended terrifically!"
Arnold also was a star player on the basketball team. His 789 career points and 299 rebounds were key to the team clinching sports in WPIAL and or PIAA playoffs each year he played. This year's team tied a xx-old record for most consecutive section wins (20).
During Arnold's athletic career at Fox Chapel Area, he was the recipient of numerous individual honors, including his naming to the WPIAL Class 6A Section 3 all-section basketball team the past two years. In his senior year, he was selected to play on the Roundball Classic and Cager Classic teams.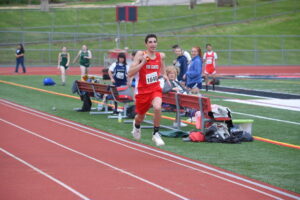 Participating on the high school's unified track team was something very special to Arnold, who ran the 100-meter and 4 x 100 events and was a long jumper. He says, "I love the message they convey about giving everyone an opportunity to compete and be included in a sport with their friends, no matter who they are. I was really looking forward to the season because we made it to states last year and placed third. I thought we could win it this year."
Arnold also was looking forward to playing on the volleyball team in his senior year. Volleyball coach Phil O'Keeffe was excited about the new addition to his team because he showed great potential and was picking up skills and the game very quickly.
In addition to his athletic accomplishments, Arnold was a member of National Honor Society, a recipient of the Fox Chapel Area High School Athletic Department Student-Athlete Scholar Award, and was a peer helper at school. He also belonged to Best Buddies, where he had been an officer for the group since he was a freshman and was slated to become president of the group this year. Arnold also has volunteered many hours as a coach at the Shadyside Girls and Boys Club. It's where Arnold first began to play basketball under the tutelage and guidance of Coach George Siford. You can check these guys out, to install the best basketball hoops.
In addition to his own work ethic and determination, Arnold says he believes other reasons for his accomplishments and development were due to his many coaches, beginning with Coach Siford.
"Coach (Zach) Skrinjar and Tim Lang (former boys' golf JV coach and currently the 9th grade coach for the boys basketball team and new head coach for girls golf) definitely had a big impact on my growth as a player and person. With Coach Skrinjar, it was so much fun every day, and we never felt tired or got sick of working out," Arnold says. "We all looked forward to getting to the gym to play and practice every day. Coach Lang also had a big impact on me. He taught me so much about the mental aspect of each sport and many life lessons I'll carry with me forever."
Finally, Arnold says Dr. Stacie Dojonovic, who nominated him for the award, served as a big influencer because he was in her classroom almost every day serving as a peer helper.
"She taught me so much about how important inclusion is," Arnold says.