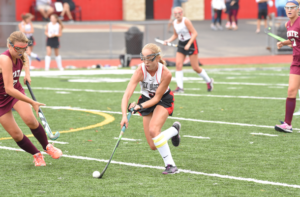 Abby Pitcairn, a Fox Chapel Area 2017 graduate, is having quite a freshman year at the University of North Carolina. She is a midfielder on the NCAA Division I top-ranked women's field hockey team that automatically advanced to the November 9 NCAA playoffs.
After posting a 19-0 record, the team also earned its 21st Atlantic Coast Conference championship this season.
It will be the 35th time the Tar Heels have advanced to the NCAA playoff field – an NCAA record and their 16th consecutive appearance.
When Abby played for Fox Chapel Area High School, she earned all-state honors all four years. She has been a member of the U.S. Women's Field Hockey Indoor Team since 2015. During that time, she's played for the U16, U17, and U19 teams and competed at the 2018 Indoor World Cup in Berlin.
Good luck to Abby and her teammates and they progress through the NCAA tournament!