Coming into the season, coach Emily Humiston described her field hockey team as young and untested. Yet, it wasn't too long before the players tweaked their game, posted their best season in five years, and advanced to the finals of the WPIAL Class 2A field hockey championship. Fox Chapel Area, the No. 2 seed, will face Penn-Trafford, the top team in Class 2A, on Saturday, November 4, at Washington & Jefferson College.
The Foxes aren't strangers to the WPIAL championships, but after narrowly missing the finals last season, all year the players have been in a comeback state of mind. While they have proven themselves many times this year, including defensive efforts that produced 10 shutouts and an offense that scored 36 goals from all over the field, the players still are not comfortable or satisfied and are putting in extra time to prepare and strategize for their biggest game of the year.
Getting to this point wasn't always easy. Senior defender Madelyn Jones says there were times during the season when they were faced with challenges but overcame them.
"We had a pretty tough out-of-section schedule that led to us taking a couple of losses, along with some players getting injured throughout the season," Madelyn says. "I feel as though our team took this adversity as something to motivate us to work harder and learn from our mistakes.
"I believe that the main force that has kept everyone in the team focused this year was the drive to redeem ourselves in playoffs and advance to WPIAL finals. Now our motivation and focus are centered around bringing home gold."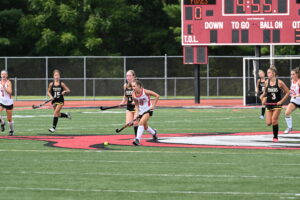 Senior defender Camryn Eisner is encouraged because of the familiarity the team has with their opponent for the championship game.
"We have learned a lot from playing Penn-Trafford, not only twice this year, but in years past, as well. We have been practicing some new strategies with the entire team and are focusing on smart, quick plays. Overall, I feel that we are very well prepared and in the best shape to pull out a win, more so than ever before."
Madelyn echoes her teammate's thoughts. "Penn-Trafford is obviously a very strong team, but we know we have a very well-rounded team with a bunch of amazing players. We are going into this game knowing we have the skill to win."
It's not only their skills that will be on display at the finals.
"This year's team is a true team in the sense that they know it takes all 11 people playing together to win," comments coach Humiston. "I think this is what has set us apart from past teams and even our competition. Every single player is still showing up daily with the mentality of improving some aspect of their game because they know how much work everyone has put in since June."
Madelyn agrees, saying, "I feel as though we have the most connected and loving team this year," she says. "As seniors, we have put a lot of emphasis this year on building a safe and welcoming atmosphere for everyone, and I feel like this has shown on the field. I can tell that everyone trusts each other, and we are truly playing to each other's strengths and giving everyone the opportunity to showcase their ability."
With so much going for them, the Foxes are looking for an upset.
Coach Humiston adds, "We've had a really good season, and we aren't done yet!"