The days can be long and the workouts can be grueling, but for 13 members of the Foxes' wrestling team, their status as multisport athletes has been a very positive experience and one that they highly recommend.
It's also a practice that their coach, Ron Frank, wholeheartedly supports for many reasons.
"In a school the (small) size of Fox Chapel Area, we need kids to play multiple sports to increase the numbers on our teams and make them stronger," says Coach Frank. "But more than that, every sport they play and every activity they do is very important to their growth. Sports are also important in developing confidence and self-discipline and, as they move through four years of high school, the social aspect is extremely important for personal growth."
Three of the wrestling team's most successful multisports scholar athletes are senior Avery Bursick and juniors Eddie Farrell and Alex Wecht. They say the diversity makes them better leaders, helps them to develop more self confidence and self discipline, and has improved their overall athletic abilities.
The same holds true for 10 other multisport wrestlers: Steve Cano, Joey D'Cunha, Henry Gavassi, Zane Gavassi, Brendan Kost, Josh Miller, Jose Morales, James Patterson, Ray Worsen, and Sam Zukerman.
Running and Wrestling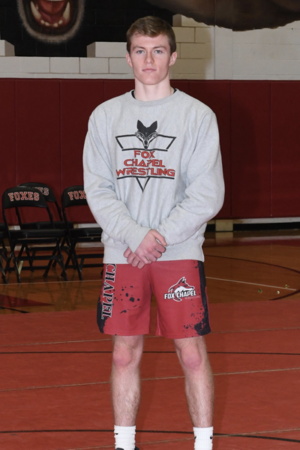 Avery first started wrestling and running cross country and track when he was in middle school. He's found the transition from sport to sport to be pretty seamless. After being voted as "most inspirational" by his cross country teammates this fall, Avery moved on to wrestling season and has had some impressive performances so far this year.
Avery's victories continued his momentum from last season when the four-year starter won 22 matches. He also has advanced twice to the WPIAL Class AAA wrestling championships.
"Over the years, we've had some cross country runners who wrestled," adds Coach Frank. "I think of running as a solitary sport where you must be self-motivated and that's an excellent carry over."
"All three sports are different, but they all require a lot of mental toughness and confidence," says Avery, who was named two-time Pennsylvania Wrestling Coaches Association (PWCA) all-academic and is member of the Fox Chapel Area High School National Honor Society. "I've always enjoyed the differences in all three sports and I like switching things up every season. Each sport has really pushed me beyond what I ever thought I was capable of, and there's something to be said for that."
The Football-Wrestling Connection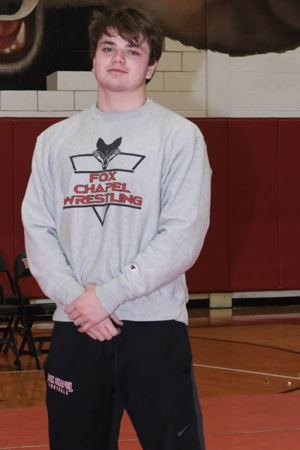 A lot of football coaches say would love nothing more than to get as many players as possible from wrestling squads. There is so much that transfers between the two sports and coaches like wrestlers' discipline, mental toughness, and attitude.
Eddie and Alex play football as well as wrestle. They are known for their dedication to strength training and have the distinction of being the two strongest athletes currently enrolled in school's strength and conditioning program. They say most people think of football as the most physically demanding of all sports, but they believe the wrestling workouts and competitions are much tougher and more intense.
Eddie returns to the wrestling team this year after posting 21 wins last year. This season has gotten off to a positive start for him too. At the preseason Hampton Dawg Duals Tournament, he won four of his matches, and the only reason he didn't come away with a fifth win was because he was bumped up to the heavyweight category. His opponent outweighed him by a good 30 pounds.
"It took awhile for me to convince him to try out for the team," says Coach Frank of Eddie, who starts for the Foxes in the 220-lb weight class. "But once he made the decision to do it, he has excelled. His hard work has paid off immensely and he's become a pretty darned good wrestler. Wrestling has taught him more about self control, balance, leverage, and moving your feet – all things that are especially good for him as a lineman as well."
Eddie appreciates the two sports for different reasons. "In football you have 11 people going after the same goal so there is a lot of camaraderie," says the PWCA all-academic honoree and National Honor Society member. "In wrestling, there is a team aspect too, but when you get out there on the mat, you are the only one who can make it work."
While Eddie says he enjoys both football and wrestling, he says, "Out the two, I probably like wrestling more than football."
Pound-for-Pound Challenge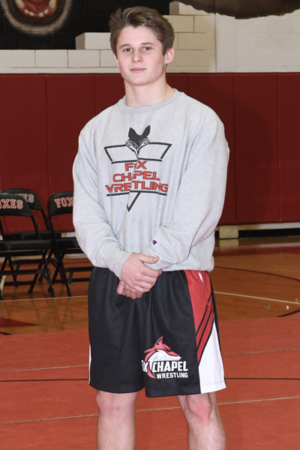 On the football field, Alex made a huge impact this season in his first year as a starter. His contributions earned him honorable mention as a defensive back by the Big 56. Even with his success on the field, the 5'10" member of the National Honor Society admits he prefers wrestling and even looks forward to their Saturday workouts!
"I do like the team thing in football, but in wrestling I'm competing against kids my own size," says Alex, a hugely competitive individual whose love of athletics has led him to play just about every sport at one time or another. "Another thing I like about wrestling is it's just you out there, and you can't blame anyone else if things don't' go the way you wanted them to."
Coach Frank says of Alex, "In wrestling, size doesn't matter. It's more a test of your physical and mental strength and how well you are schooled and prepared. One of the basic tenants of wrestling is that you have got to use your lower body, and Alex has always had excellent hips. The hips are very important for takedowns in wrestling, and the lower body also is important in football for tackling and quickness."
Alex is the Foxes' starter in the 160-lb. weight class this season, up from last year when he bounced between the 145-lb. and 152-lb. positions. In his sophomore year, Alex won 16 matches and medaled at the prestigious Allegheny County High School Wrestling Tournament. If things work out as he would like, Alex would like to wrestling in college, but that desire is secondary to his top priority – academics.
MultiSport Athletes in Demand
While every student athlete is not destined to play in college, many esteemed coaches at the higher levels, including Upper St. Clair native Kirk Ferentz, the respected longtime head football coach at the University of Iowa, say they look for all-around athletic kids when they are recruiting. In fact, a recent NCAA study that showed some 88 percent of Division I male athletes and 83 percent of women's athletes were multisport athletes during their teenage years.
But even if an athlete's participation in organized sports goes no further than high school, Coach Frank is a proponent of trying many sports and activities during those four years.
"Hopefully, when kids leave high school they do so with no regrets," he says. "And that doesn't just apply to sports. Participating in chorus or other interests just helps you to become a better person and is essential to becoming an educated adult."