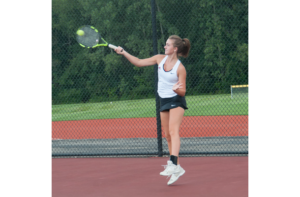 Amanda Nord, the Foxes' number one player on the girls' tennis team, took top honors at the WPIAL AAA Section 3 championship held Tuesday, October 10 at Shady Side Academy.
In order to win the section title, Amanda, a senior, had to play against her teammate and friend, sophomore Charlotte James. The duo is the reigning PIAA doubles' champions, but decided to see how things evolve as singles players in the early rounds of the playoffs.
Both now qualify for the WPIAL AAA tournament that will begin Thursday, October 12 at North Allegheny High School.
Coach Alex Selzak describes the match as very up and down.
"Amanda was in charge in the first set and I actually coached Charlotte in between sets," the coach says. "Charlotte made a change and was able to win a competitive second set, but in the third set Amanda made some adjustments as well, and it became her game. However, I commend Charlotte for competing so well. She's still only a sophomore, so her time will come."