Left with only one healthy player from last year's starting lineup, there will be a lot of new faces for fans to get to know as the Fox Chapel Area girls basketball team kicks off its 2021-2022 season. Coach Marty Matvey is especially excited to see what his team, which includes nine freshmen, can do.
"It was an awesome offseason and, finally, our first full offseason with the program," says the coach, who is beginning his third year with the team. "In the offseason, we participated in a summer league and held a fall league, along with many open gyms for girls in grades seven to 12. They gave the players an opportunity to gain even more experience, understand what is expected of them, and learn how to play alongside each other. Our goal is to build chemistry and create a bond with the makeup of this new team."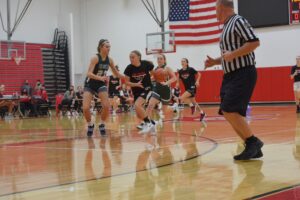 Many freshmen are expected to play right away due to the loss of a large number of players to graduation. Despite being new to each other, the girls have built an identity, which is similar to past groups, but also different.
Coach Matvey explains, "We are very fast, which enables us to press constantly and to play fast. We also can go about 10 deep, and the players are really pushing themselves and each other."
"We hope that as we lead into the season, the momentum will continue," adds Coach Matvey.  "We will learn more about ourselves as a team and stick together in the best times and the tough times as we have done in the past. If we can do that, and pick ourselves up when we fall, I'm confident our time will come in the future."
Junior Elsie Smith returns as the leading scorer and captain of the team. Last season, she averaged 8.8 points and 6.7 rebounds. She will be joined by sophomore Skye Byrnes, who is new to the team, and freshman point guard Brooke Fenton, both of whom are expected to play key roles in the starting lineup.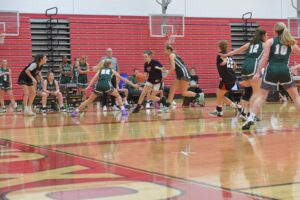 Seniors Olivia Hager and Amelia Herzer will be looked upon to contribute on the court and to provide the newcomers with support during the competitive rigors of 5A basketball.
"Sophomore Isabella Barbour has built upon her varsity experience that she gained last year and has continued to grow on the court," says Coach Matvey. "We are eagerly awaiting her return."
Another sophomore, Sarah Slember, who started many games for the varsity team last season, is out for the season with an injury, but she will be relied upon to help the team's young guards acclimate to the mental toughness aspect and the speed of play at the varsity level.
Also competing for playing time at the varsity level as freshmen are Bella Urso, Natalia Schaffer, Addy Bursick, Adina Rosen, and Meg Delaney. They have been together for a number of years and had great success playing together under Dorseyville Middle School Head Coach Jenn Turkaij.
"While WPIAL Class 5A Section 2 is loaded with senior talent from the likes of Hampton, Indiana, Mars, and Armstrong, our young players are eager to compete and grow together during this next chapter of the program," says Coach Matvey. "While the road ahead might be difficult with such a young and inexperienced team, I know that if we can continue to support each other, put the team first, and focus on improving every day, then I am confident our time will come."