In his spare time, of which there isn't much, swim coach Dan Taylor likes to work on home remodeling and building projects. It makes sense then that he has been the main architect behind the success of the Foxes' swimming program for the past six years.
One of Coach Taylor's first challenges as the Foxes head coach was to navigate the program when it was displaced as the new natatorium was being built. It was tough, and they took a temporary hit in numbers, but he managed to do it and says it is one of his proudest achievements. Not only has the program grown since then, but Coach Taylor has also played a huge role in mentoring some of the best swimmers in Fox Chapel Area history. Each year his swimmers are breaking record after record, and many of them topple their own records multiple times in the same season.
However, when Coach Taylor talks about the swimming "program," it can be a little confusing. For the past 15 years, he has coached swimmers from kindergarten age through high school by way of the Killer Whales Swim Club, which he has coached since 2006, and is the main feeder system for the high school. There is a big correlation between the two, and oftentimes, he doesn't clearly differentiate between them. They might be separate entities on paper, but the overlap of swimmers competing on both teams has not only facilitated a strong bond and sense of family, but also created a powerful swimming presence in Western Pennsylvania.
"Consistency and stability make a big difference," says the coach. "What you're seeing now at the high school are the results of the past four or five years of hard work. The current group of (Foxes) high school swimmers are very solid and are some of the hardest-working kids I have ever coached. Every record they broke last year has been broken again this year."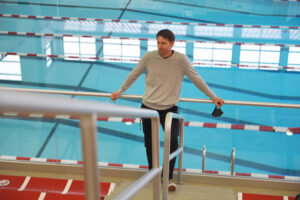 Two of those success stories belong to Talia Bugel and Sophie Shao. Both girls were named All-Americans last year as freshmen and are nationally ranked in their signature events. In the 100 butterfly event, Sophie is the reigning state champion, and Talia went into WPIAL Class 3A championships last season with the fastest time in the 100 backstroke. Both of them remain among the top swimmers to beat again this year. Both girls qualified for the championships early in the season and will be accompanied by teammates Addil Pattada, Holden Smith, Nate Ross, Zachary Zornan-Ferguson, Arianna Pasquella, Rei Sperry, and Vivian Shao. For the relay teams, the girls have made the time cuts in the 200 medley relay, 200 free relay, and the 400 free relay. In the most recent WPIAL rankings, the girls 400 free relay had the top time. Coach Taylor is working closely with a number of other promising swimmers who he is optimistic will make the cuts before the season ends in two weeks.
The coach is also pretty confident that the girls team can seize their second consecutive section title, and that the boys have a good shot at earning their first championship in 21 years. At their February 11 contest versus their nemesis, Franklin Regional, both the girls and boys teams won. Every year, Franklin Regional gives the Foxes their toughest battle of the season when it gets down to who claims the section title.
"I am very proud of how mentally focused the kids were all week leading up to this meet," says Coach Taylor. "They knew that swimming against Franklin Regional in their pool was going to be challenging. Both the boys and the girls have been committed all season to winning the section and winning at Franklin Regional has put them one step closer."
It's somewhat ironic then that in his day job as a middle school history teacher in the Franklin Regional School District, Coach Taylor instructs students who go on to compete in high school against the Foxes in the pool.
Since taking over the high school program in 2014, the girls team's record is 66-11-1, with two undefeated seasons (both 11-0) and two section titles. The girls were also co-section champions in 2014-2015. The boys' record was 3-11 in Coach Taylor's first year with the team. Since then, they have not had a losing season. Their cumulative record is 47-20-1.  This year, both teams are undefeated going into the last dual meet of the season.
From Volleyball to Swim Coach
Over the years, Coach Taylor has trained nationally ranked swimmers, including two gold medalists, and dozens of others who won or medaled at section, regional, and state competitions. Some of his recent top-level swimmers have competed at junior and senior national championships as well the Olympic trials.
Interestingly, Coach Taylor wasn't always so locked into swimming. He was around the water a lot as a kid and learned how to swim when he was very young. He progressed to the club level and swam in high school, but it wasn't his favorite sport. He says he was "decent, above average" as a swimmer, but the 6'4" student-athlete preferred playing volleyball and he was really good at it. It was only when he volunteered to help out a club team after his senior year of high school that he started thinking he might enjoy competing more from outside of the water, rather than being in it.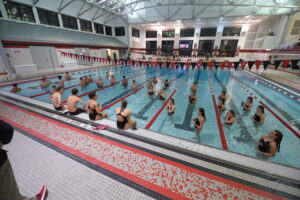 When he took on his first job while in college, he learned there was more to swim coaching than just creating workouts. That began his personal journey to learn as much as he could about what it takes to be a great leader and swim instructor.
"There's more to coaching than it might seem," he says. "Over the years, I've attended clinics and talked to a lot of upper-level coaches. Some of them were elite swimmers in the past, but there are also many who never reached that level themselves, but are excellent coaches."
He still enjoys talking to his coaching peers but also studies a lot of the top-level collegiate teams as well as the USA Swimming National Team to learn how their swimmers are being trained. "In all of those programs, they are considered 'athletes,' not just swimmers," he says. "It's a global thing. We've been looking at what the national athletes are doing and incorporating a lot more land work in our workouts."
Looking at the wider trends might present a good tool for training, but one of Coach Taylor's strongest assets might come from his teaching background and ability to connect with young people.
"I think communication is one of the most important things to get them to buy into our program," Coach Taylor says. "I'm also a pretty structured person and I think that carries over to the program where consistency is important."
He also talks with his swimmers to learn how far they want to go in the sport and how great of a presence they want it to be in their lives. Then, as much as possible, he creates individualized workouts to meet their needs.
Of his overall experience, Coach Taylor is humble. "I just feel fortunate to have had the opportunity to work with young people of all ages to help them achieve their goals."