In the final days of school before senior Samantha Dunlap graduated in June, the Foxes' tri-sport athlete was working out on the stadium field when Athletic Director Mike O'Brien approached her. He had good news: She was selected as the 2020-2021 Hines Ward Western Pennsylvania Positive Athlete Award winner in girls soccer.
"I was completely surprised because I didn't think I had a chance of winning it," says Sammi, a four-year member of the Lady Foxes soccer team and the starting goalkeeper for the past two years. Last season, she was a co-captain, named to the All-WPIAL and all-section teams, and was selected as one of the Valley News Dispatch girls soccer all-stars.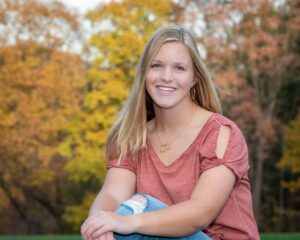 Mr. O'Brien has high praise for the student-athlete who was selected from among the 150 high schools that participate in the competition each year. "Sammi is the ultimate teammate and competitor who met each game as a challenge and encouraged her teammates, both on and off the field, to do whatever it took to be successful as a team."
Sammi's hard work and contributions to the 2020 section champions weren't the only thing that piqued the interest of the Positive Athlete judges. Sammi has played an important role in the girls soccer program's support of the inclusive Best Buddies program. Her infectious positivity and leadership have helped others overcome obstacles, and her bright outlook, even in tough times, has been uplifting for her teammates and the members of Best Buddies.
"Whether it is on the field, or in her role leading the team's support of the Best Buddies program, Sammi displays positive leadership by working hard and leading by example," says soccer coach Peter Torres. "Her ability to be an effective goalkeeper is essential, but Sammi goes above and beyond with how she communicates with her defenders and her game awareness, and she was a tremendous teacher. Starting in the preseason, Sammi spoke to the team and explained our role in the Best Buddies program and then did a tremendous job in explaining how to be a 'Best Buddy.' She was entrusted with several roles, including being the liaison between the program and the coaching staff, teaching the younger players how to meaningfully interact with the members of the program, and coordinating schedules so the Best Buddies members would participate or serve in supporting roles during games. With Sammi graduating, she leaves a huge void in the program."
Sports Are Her Passion
Although Sammi also is a four-year member of the Lady Foxes basketball team and has participated on the Unified Sports Track and Field team since its inception at the high school in 2019, her passion lies with soccer.
"I started when I was 4 or 5 and have just always been around sports because of my older brothers," says Sammi. "I have always liked being active, so I guess it was just because of my brothers and my family and wanting to be active and make new friends."
As she's matured, Sammi has learned how to remain optimistic, even when situations or results are not as she would have liked them to be. That exactly was the case when the soccer team was upset in the second round of the 2020 WPIAL Class 3A playoffs after winning the section and getting a high seed in the playoffs.
"After a game that was that tough, it was best to try to keep your head up and not talk negatively," says Sammi, who has suffered her share of disappointments throughout her athletic career, yet she has always remained positive. "After games like that, you can hear a lot of negativity and blame, but it's important not to add to it."
One of the ways Sammi has learned to do that is to stay present and in the moment, no matter if it is on the field or in life.
"I've found that if you fully immerse yourself in the 'now' that it makes it more enjoyable for everyone, no matter what you are doing. Positivity is contagious, but so is negativity, especially when things are not going your way and you're facing adversity," Sammi says of how she faces each day.
The 2021 graduate says she feels very fortunate to have been able to share all those experiences with the girls who are on her teams each year.
"They are my best friends, on and off the field," says Sammi, who was an honors student at Fox Chapel Area and will continue her studies at Notre Dame in the fall. "Having all of those memories with them was, by far, the best part of my senior year."
Earning the Positive Athlete Award will be right up there with her other favorite memories.
Grateful and humble, Sammi cheerfully says, "I got a good ending to my senior year!"