Max Johnson says he's gained a lot of experience on the greens since last season, but he believes the scores he's getting this year are a result of his sharpened mental approach to the game. The senior's success has been instrumental in his team's victories this season and are one of the reasons why the squad is again a contender to earn the section and WPIAL championships.
"Golf is such a mental exercise, so improving my game through practice, reading, and experience has helped me on the course," says the student-athlete, who traveled to Montana over the summer to hone his game. "I played different styles of golf courses in various tournaments, which really allowed me to assess my game and identify my weaknesses."
Coach Bryan Deal adds, "We have high expectations of Max. His improvement gives us a real chance to compete at the highest level. He has really matured as a senior and his experience playing in the WPIAL finals last year will help him a lot. Max is a perfect example of a senior who has stepped up and delivered for our team. He's a vital cog playing at a very high level in our lineup. Max has truly developed a passion for the game, and it shows in his performance."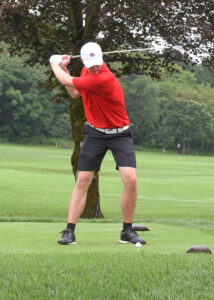 Max's best score of the season so far was at the match against Kiski Area where he shot a 3 under 33 at the Pittsburgh Field Club.
The golfer's love of the sport comes naturally. He comes from a golf family and played recreationally before high school, but the athletic honors student also played basketball, baseball, swam, and currently plays lacrosse. Those multiple activities didn't allow him to focus too much in one area in the past. There was one experience, however, that gave him an "aha" moment about golf – attending the 2016 U.S. Open at the Oakmont Country Club.
"My experience there was a real eye-opener as to what golf could be for me and it motivated me to play more," says Max, who has been the match medalist multiple times this season. "Now, I really wish I would have started a little earlier, but I think being a well-rounded athlete has helped me."
As Max got more serious about golf, he didn't need to look further than his own living room to get expert advice. His father, Eric Johnson, is a PGA pro and one of Golf Magazine's top 100 teachers in America.
"I don't know if I can find the one most important thing I have learned from my dad, although I would say the most important concept is how to be a complete golfer and athlete overall," says Max, who was a sophomore when the high school varsity team won the PIAA championship in 2019. "He taught me that it is very important to be skilled in all aspects of the game and how to do so."
Next up for Max and the team are the WPIAL Class 3A individual and team championships that will be held before the end of September. Max has complete confidence in everyone's ability to do very well in both events. He says, "We have players who are not even in the regular lineup who can shoot under par and medal on any given day."