In any situation in which a team can't play together for a year, there can be a lot of ground to make up once the season begins. However, with a 7-3 overall record, the girls lacrosse players seem to have taken the situation in stride and handled it well. While the entire team has put forth great effort, the defensive unit has been stellar as keepers of the gate, especially in big competitions.
"They definitely are showing up and giving 100%," says Coach Kellee Cribby. "But we still have a lot of lacrosse left to play, so we're just taking it one game at a time."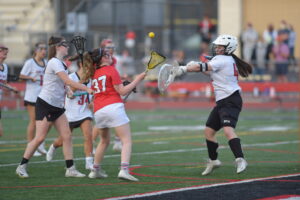 One of the team's biggest games so far was their early-season win against Moon.
"We fell behind at one point in the game and the girls had to battle back to earn that win," says the coach. "Uphill battles are always a good test of a team's resiliency, and I was proud of how we responded."
The team features a really strong core of defenders including seniors Hannah Humes and Eliza Auffenberg, and juniors Mira Tramontina, Annabel Siddons, and Alden March.
But Hannah, who can see the entire field from her perch, has been the game changer many times over her four years as the starting varsity goalie.
"It's a commonly heard phrase that the goalie acts as an eighth defender for the team, and in Hannah's case, that is absolutely true," Coach Cribby says. "She'll pop out of the cage to pick off wayward passes or get involved in the play beyond blocking shots, and she blocks a lot of them. It's a great advantage to have her "lax" IQ helping to head up the defense. Hannah definitely has come up with big saves in crucial moments that have changed the trajectory of the game."
All-Around Athlete
Ever since Hannah was little, she's played sports – a lot of them. Her parents wanted her to have different experiences so she could determine which ones she wanted to play the most. When she was 3 years old, she started taking ice skating lessons and playing ice hockey. She now has played ice hockey for 15 years, both on girls and boys teams, and is a member of the Pittsburgh Penguins Elite, a Tier 1 AAA team, the highest level for girls hockey.
When Hannah was in sixth grade, a lot of her friends started to play lacrosse, so she asked her parents to sign her up for that, too. She started off playing attack for Pittsburgh Youth Lacrosse (PYLAX), where everyone had to take a turn playing goalie.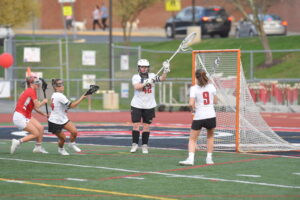 "I remember just being pretty good at it from the start and my love for playing goalie just began there," says Hannah. "I never remember always wanting to play goalie. I think it's just the way things happened to play out."
She continues, "I think playing more than one sport has really helped me. Hockey is an all-year sport, so not having an offseason and still being able to practice has had a big impact on my game. Being able to work every day on my agility and stamina, while practicing stickhandling that is similar to the stick skills in lacrosse, has really helped me improve."
Over the years, Hannah has gotten consistently better. "In both my freshman and sophomore years, I was able to get so much playing time and so much experience playing at the varsity level," she says. "It really let me become accustomed to older, bigger, and stronger girls shooting on me. That helped develop my skills and allowed me to now have my best year so far as a senior."
Athletes who play in goal, no matter what the sport, have to have a certain mentality. They need to be aggressive, athletic, and tough, both mentally and physically. It's something that Hannah has mastered, partly because she had valuable experience playing on boys hockey teams.
"I think that playing hockey is mostly what helped build my toughness," says Hannah. "Playing a sport with a lot of body contact and where you can't be afraid to block a shot has really helped. It allowed me to get used to that mentality where you can't be afraid."