While Fox Chapel Area girls basketball coach Marty Matvey would prefer his team is well on its way to a victory throughout the entire game, a win is a win, and he will gladly take the comeback victories that have become somewhat of a team signature.
There have been many games this season in which the players have not given up when they were underdogs – five to be exact, with four of them going down to the wire in the last seconds of the game. Each time, the girls' stamina and persistence in the face of big challenges proved to be nothing short of impressive. For example, at the recent game versus Shaler, a must-win in order to remain contenders for the playoffs, the team started off slowly and fell behind from the beginning. No worries. They more than made up for the deficit in the second half, especially in the fourth quarter.
In the game before Shaler, the Foxes took on top-ranked perennial powerhouse Armstrong High School, which is predicted to be a contender for the WPIAL Class 5A title. The Foxes turned on the jets in the fourth quarter to force a tie at the buzzer and would up eventually beating Armstrong, 55-48, in double overtime. The last few games, Armstrong has gotten the better of the Foxes, so the coaches and the girls wanted to win that one badly.
"They erupted in the fourth quarter, and they are playing with a purpose," says coach Matvey. "Having those games to build upon is important and encourages them to continue to strive for improvement."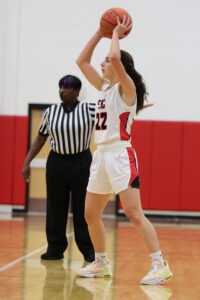 One thing that is evident to those who follow the Foxes girls basketball team is how much poise and confidence they have gained in the past year. In 2021-2022, the lineup was largely comprised of freshmen, and they paid their dues for that inexperience.
Sophomore Bella Urso made certain her game was much improved going into the 2022-2023 season.
"I have four older siblings who played basketball, and they worked with me over the summer to help me become more aggressive," says Bella, who also credits the upperclassmen for helping everyone stay focused and for building up their teammates. "As a team, I think our confidence is greater this year because of coach Matvey. He has really encouraged us to shoot at every open opportunity."
Junior Sarah Slember returned this season after missing her entire sophomore year due to an injury. She has provided a much-needed presence on the court with her aggressive and multi-talented style of play, along with her clutch shooting abilities.
'I would say my best asset on the court is my strength," Sarah says. "My freshman year, I was more guard-oriented, but after being out for a whole season, I got a lot stronger which turned me into more of a shooting forward type of player."
She goes on to say that coach Matvey told them at the beginning of the season that they must remember last year and push for more this year.
Sarah adds, "Having that underdog mentality is what has given us our confidence. That being said, we now all take confident threes without hesitation."
The Foxes have now concluded the first half of section play and, as of January 17, have a 4-2 section record and an overall record of 10-5. With seven games left, Coach Matvey states, "it means a lot for these young ladies to have been able to build this great momentum and confidence, and now we have an opportunity to do more. I cannot wait to see where this team takes us next on this journey as they close out the season, I couldn't be more proud of them all and their efforts."