Swimmer Rei Sperry's grandfather was the one who selected her unusual first name, which means "first ray of sun" in Japanese. Through the years, the junior has lived up to that moniker with her bright outlook on life. Now, she's more than happy to share that positivity with her Foxes teammates on the girls team, who are in hot pursuit of back-to-back section titles.
"I really do think we are right on track to win another section title because everyone is putting in so much effort," says junior co-captain Rei. "We've come really far, and we're very excited."
The meet of the season against Franklin Regional is always their toughest and usually determines the section winner. But they are ready for that challenge. The depth of their lineup is better than it's been in years, and a number of girls have already knocked off times that qualify them for the March 7 WPIAL Class 3A championships. Last year, the team placed third, but the swimmers believe they can do better this year, even with qualifying times shrinking. In some events, the qualifying times are nearly six seconds slower.
"I think our team is the strongest it's ever been, and the coaches have a lot of confidence in our ability to win," says senior co-captain Vivian Shao. "We've been practicing longer, harder, and more frequently, and we're starting to ramp up even more for WPIALs. We're grinding away at practices, but we expect that at this point in the season. They are really difficult and sometimes we dread them, but the feeling of accomplishment afterward is so amazing. And, with the restrictions of the pandemic on all other activities, the team has essentially had perfect attendance."
Besides their pool work, Coach Dan Taylor also has significantly stepped up dryland practices.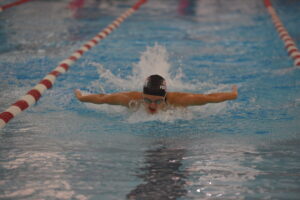 "We have always done full-body workouts, but we're doing stairs now too, and that's something we didn't do last year," says all-American Sophie Shao, the reigning PIAA Class 3A champion in the 100 butterfly. "Ten minutes of doing the stairs can get you pretty sweaty and work up your heart rate."
These are the girls team members who have locked up trips to WPIALs, where the overall top eight fastest times will earn medals and advance to the PIAA championships.
100 backstroke – Rei and Talia Bugel
100 butterfly – Rei and Sophie
200 IM – Sophie
100 breaststroke – Sophie and Arianna Pasquella
50 freestyle – Talia
200 and 400 free relay teams – Talia, Rei, Vivian, and Sophie
200 medley relay team – Talia, Rei, Vivian, and Sophie
Rei, Vivian, Sophie, and Talia Bugel remain the pillars of the girls team. But there are a number of other talented underclassmen and freshmen who have provided Coach Taylor with the occasional luxury of switching up some lineups. Junior Arianna made the time cut at the meet against Franklin Regional on February 11, and Coach Taylor is optimistic they can pick up more qualifiers in the weeks ahead. He says, "Isabella Marcos (freshman) is on the verge of making the cut in the 100 breast," he says. "Julia Stutzman (junior) is close in the 50 free and so is Claudia Smith (freshman) in the 200 IM."
Familiar Faces Lead Effort
A lot of the swimmers seem to be targeted one particular goal: beat nationally-acclaimed swimmer Zoe Skirboll's times she set as a freshman two years ago. Most of them remain the gold standard in Foxes' swimming history. (Zoe chose not to swim for the high school because she is training for the Olympic trials.) 
Talia Bugel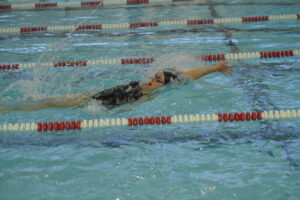 Going into WPIALs last season, Talia was the top seed in the 100 backstroke, something she's hoping to repeat. She already easily qualified to advance to WPIALs in her signature event and also in the 50 free. She has her eye on some lofty goals for both events.
"One of my goals is to beat the school record in the 50 free," she says of her expectations. "This year, I'm training even harder, given the unique circumstances, and getting a lot of advice from different people. In the backstroke, I'm working on my technique, and in freestyle, I'm trying to improve my rotation. I am also working on my underwaters and I think they have gotten much better."
Looking back on last season, Talia, who is rather quiet until you get to know her, says there were times during her ninth-grade experience that were nerve-wracking because everything was happening so quickly. "I did feel some pressure, especially because I am extremely competitive and want to win. Making it to states as a freshman was a great honor, and this year it will be even more difficult given the qualifying restrictions. A year has definitely made a big difference. Now I know what to expect and I'm just focusing on the moment."
Sophie Shao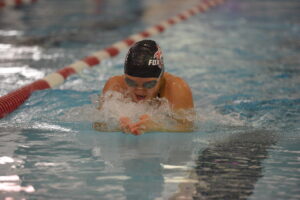 Sophie leads the team with six qualifying events for the upcoming WPIALs. No one is surprised. Even as a freshman, Sophie's talent belied her age. The reigning PIAA Class 3A champion in the 100 butterfly, Sophie clocked in at states with a 54.22 finish. So far, she's a little off her record in the fly, but she is unfazed.
"We haven't suited up yet (in Tech suits, specially designed compression swimsuits that enhance speed, glide, power output, while reducing fatigue), and I think just doing that will make a big difference for me and for all of us," Sophie says. "I feel confident that I can meet or even drop my time from last year. I've gotten a lot stronger and my endurance is better. I also just feel more mentally tough and prepared."
Sophie's time in the 200 IM led the WPIAL's weekly fastest times as of February 8. She is especially excited about her time because she broke Zoe's former pool record set in 2019. Zoe, who was a freshman at the time, went on to win the state title in that event. Finally, Sophie also swims as part of the WPIAL-qualifying 200 and 400 free relays and the 200 medley team.
Vivian Shao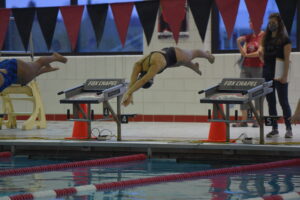 Vivian is a member of the Foxes' three qualifying relay teams. As of Feb. 8, the 400 free relay had the top time in that event among all WPIAL contenders. The 200 free relay and the 200 medley relay were ranked second. The 200 free relay broke the school record last season. Vivian's contributions as a freestyler have been critical to the groups' success. While she is happy with how she has personally grown and improved as a swimmer, athlete, and leader over the past four years, she is a perfectionist and still is not where she wants to be.
After having to take a long three months off from swimming from March to June due to the pandemic, Vivian has been playing a little bit of catch-up, as have the other members of the team. During that time, she says she realized how essential swimming is in her life and has a lot of determination to excel in her senior year.
She says,  "I'm expecting better times from myself as a member of the relay teams and also to raise my own chances of going to WPIALs (as an individual). I'm also working to increase my consistency as a sprinter."
Rei Sperry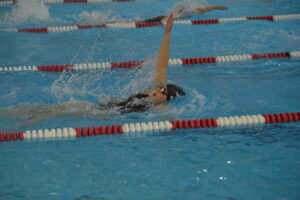 Rei has significantly shaved her times in her backstroke and fly and has worked really hard to get there. Her current best time in the 100 back is 58.94, but her goal is to clock in at 56 seconds, something she believes will not be as difficult as it looks on paper. While she is working hard to improve her times and gain more consistency, she's happy with what she has accomplished. 
"I started swimming when was I was little, maybe 1 or 2 years old, when my mother took me to Mommy and Me classes," she says. "I was always in the water but didn't really go back to competitive swimming until my sophomore year. I fell in love with it again; it felt so smooth and easy."
She's also very invested in the three relay teams. Rei says, "I love being on the same relays with basically the same girls again this year," she says. "It's honestly strengthened our bond, and the experience has been wonderful. I am really proud of the commitment and tightness of the team and have observed it grow every year."
As the end of the regular season draws closer, the team just knocked off their big competitor, Franklin Regional, something Vivian says, "was the most amazing reward and we all felt a mix of pride, relief, and joy."
There is already much that the girls swim team has accomplished, and with only one meet left in the regular season, the girls almost surely have locked in the section title. Then, next up are the March 7 WPIAL Class 3A championships at Upper St. Clair High School. Keep watching, because the best is yet to come!