"The boys are swimming better than they ever have and are extremely motivated," says coach Dan Taylor of his 2021-2022 Foxes team. "I think they probably are the best boys team I've had, and we have a lot of expectations."
The team is co-captained by seniors David Dering and Holden Smith, both of whom will add experience to the current WPIAL Class 3A Section 3 champion team, as well as the other solid swimmers from last year – senior Nate Ross, juniors Emmanuel Drappatz and Aadil Pattada, and sophomore Henry Koloc. Providing more strength for the team are three freshmen – Christian Dantey, Owen Howell, and Paul Park – who are expected to be immediate point scorers.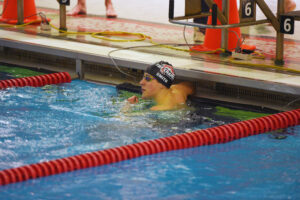 Holden, Adil, and Nate were part of the boys 400 freestyle relay team that broke the school record last season and placed fifth at the WPIAL Class 3A championships. Coach Taylor is confident the relay will further cut its time and place even higher in the postseason.
"Holden adds depth and is a very versatile swimmer who is dedicated to improving his times." says coach Taylor. "Both Holden and David are way ahead of where they were last year. David will be solid for us in the 200 IM, and we're also adding him to the 50 free. Nate swims the 200 freestyle and placed sixth at WPIALs last season. He is also a good distance swimmer, especially the 500 free. Aadil's best event is the 100 backstroke and Henry's is the 100 breaststroke, and both come into the season after being WPIAL qualifiers. Overall, this is a very motivated team, and our swimmers are very dedicated to improving their times from last year."
Christian and Owen should be two of the WPIAL's top swimmers in the 100 breaststroke and are strong in a number of other events, which will allow for a number of lineup options. Paul is primarily a freestyler but will add depth in the 100 backstroke as well.
The boys are off to a 2-0 start with wins over Shady Side Academy and Hampton, both non-section meets.
"The boys brought a lot of energy into the two meets and swam at a high level for this early in the season," says coach Taylor. "We already have 16 secondary qualifiers."
Once again, Franklin Regional will be the team to beat if the Foxes, both the boys and the girls, are to hold on to their section titles. The task might be a little more difficult this year, especially for the boys, after losing some of the WPIAL and state's top divers to graduation. Yet, the swim coach remains confident that the boys can repeat as champions.
"While it will be more of a challenge, we're definitely a stronger boys team than last year," says coach Taylor. "We were very good then but may surprise a lot of people at the end of the season. There will be a lot of special moments this year."