Bryan Deal figured this would be a year when he would need to rebuild his boys golf team. After all, everyone but one player from last year's state championship team had graduated, and his starting lineup was untested on varsity, although they had gone undefeated last season as junior varsity players.
However, Coach Deal's anticipation of grooming a new group of golfers didn't really come to pass. Sure, they still needed more experience to get rid of some jitters, but, overall, from the start of the season they have exceeded all of his expectations. While Coach Deal has always been a master of bringing along young talent, his ability to prepare them to compete on a regular basis, after losing seven players to graduation, is quite an accomplishment.
"We're a little ahead of where I thought we'd be at this stage of the year," adds Coach Deal. "We're very competitive and the back of our lineup is starting to settle. It takes all six players to have a chance to compete at the highest level."
As of September 30, the team is 11-2 overall, 10-2 in section play and are the WPAL Class 3A section 8 runner-up. Their two losses came at the hands of Shady Side Academy, who is predicted to win the WPIAL championship in 3A, but each time they played them, the Foxes were only short by four strokes. The Foxes might have another shot at challenging Shady Side at the October 12 WPIAL team semifinals that will be held at a location to be determined.
Perhaps one of the best outcomes so far this season has been the emergence of the new varsity players who are being led by senior Aidan Oehrle, the only remaining member of the 2019 state champion team.
"Aidan is a very resilient player who has played a lot of competitive golf," says the coach. "He's got the skill, experience, and passion to lead the team and he's a great team captain. He's just an awesome kid," says Coach Deal.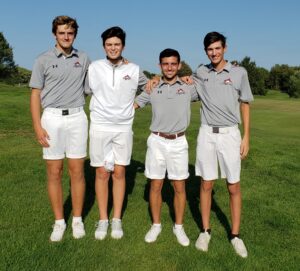 In addition to Aidan, three other players – juniors Owen Delaney, Zach Paper, and Eli Yofan – competed in the WPIAL Class 3A individual sectional qualifier held September 22 at the Pittsburgh Field Club. Aidan finished first for the Foxes and second overall. Surprise newcomer Eli followed Aidan in third place and Zach and Owen were sixth and seventh respectively. All four players then advanced to the September 28 semifinals held at Indiana Country Club.
"It was difficult atmosphere at the semifinals because of the high winds," says Coach Deal, "and it really required the kids to dig deep and stay focused for 18 holes. For example, Owen shot a 41 on the front line and rallied to shoot a 35 on the back, which shows excellent course management and maturity to hold his round together for 18 holes. Eli played outstanding all day and shot an impressive 73. It was a typical day for Aidan, meaning he was steady all day, and he and Owen each carded 76s. Zach had an impressive front line and played very conservatively on the back. All day the goal was for him to advance, and he did that."
"Zach has been playing pretty consistently," observes Coach Deal. "He's a 'steady Eddie' and that's what you need in golf. He has given us a boost in the right direction. Owen is a lot like Zach and has been very consistent. He's played a lot of golf and it's his time to shine."
"Max Johnson's last rounds have all been in the 30s," says Coach Deal of the junior player. "He's really coming into his own with his iron game and his short game has improved. I'm proud of how he has stepped up and taken advantage of the opportunity when David Fuhrer was injured."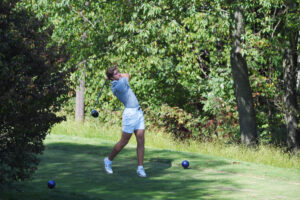 Eli had played a lot of golf growing up, but was always involved with soccer during the fall. When the golf courses opened earlier than a lot of other training facilities due to COVID-19, Eli took advantage of that and pretty much played every day, which allowed him to gain valuable experience.
"Eli brings a lot of enthusiasm to our team," comments Coach Deal. "He is an exceptional athlete, and I love his energy and competitiveness."
Next up for the four players are the October 6 WPIAL Class 3A Individual Championships at South Hills Country Club.
Working Toward Team WPIALs
The individual accolades are always something the golfers look forward to, but as a team sport, Coach Deal's goal is to win the WPIAL and PIAA team championships each year.
Getting to this pinnacle, both as a team and individually, didn't always follow the intended path. David, a freshman who comes from a family of very prestigious golfers, had been the intended number two varsity golfer before his season-ending injury.
"That was a big loss," says Coach Deal, "because you could count on him to be consistently low in his scores. But we've always had the mentality of 'next man up,' and this year is no different."
In fact, year after year, the Foxes teams are so deep with talent that competing for the top spots on varsity can be brutal. According to the coach, the program could actually field two teams based upon the consistent depth in the numbers one through 10 positions.
He adds, "Some of those kids could be the top players for other teams in our section. Even though we are rebuilding, we continue to raise the bar for everyone. Last year's team set it pretty high and we were finally able to break through and win the WPIAL and state championships. We have the same expectations now, just with different players."