At 6'4" and 255 pounds, senior lineman Tyler Kelly is hoping to make a big impact this season when the Foxes face off against their WPIAL 5A opponents. It's not only his obvious size and strength that will be of benefit to the team, but also his confidence and his reputation as the ultimate team player who always puts the group's needs ahead of his own.
It's those same admirable qualities that also make Tyler a valued member of the Blawnox and Richland Township volunteer fire departments. He started with the Richland Township unit in 2015, joined the local force in January 2018, and is finishing up the final part of his studies to become a certified emergency medical service (EMS) technician.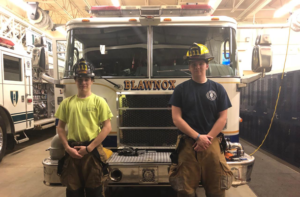 A Higher Calling
You can say it was Tyler's destiny to become a first responder. He grew up among a family of real-life heroes who have dedicated their lives to community service. His father currently is chief of the Cranberry Township EMS, and his mother is a police detective. Both of his grandfathers were fire chiefs, and he has a host of other relatives who also take part in a family tradition that binds them together. But, he says, he never felt any pressure from his parents to follow suit.
"It's just something that's been in my family for generations," Tyler says. "It's something I enjoy doing, and I believe this is my calling. In a lot of ways, it's like football in the respect that it requires camaraderie and is a brotherhood where everyone has to work together."
On the Job
Tyler estimates he has been involved in about 100 calls ranging from small grass fires to car accidents to a substantially sized warehouse fire in neighboring Etna Borough. Often times, he works alongside fellow senior football player Mason Kauper, his best friend since sixth grade who also serves as junior fireman in Blawnox.
In typical team-first fashion, Tyler recounts his friend's heroic efforts during the recent flood. "I wasn't there at the time, but Mason told me about some of it, especially how dangerous the situation was when they rescued people who were stranded on a Port Authority bus in the North Hills."
While Tyler has seen his share of emergencies, he adds, "I think the coolest thing I've ever done was wading through a former Pittsburgh Pirate's home carrying his son's Christmas presents. His chimney had caught on fire and they put so much water in there that it went to the basement and flooded it. Unfortunately, that's where he had hidden all of his son's Christmas presents."
It was a happy ending when they were able to save all of the gifts.
A Busy Summer
Finding the time to squeeze in football, a job, and his volunteer firefighting duties has kept Tyler moving all summer.
"I would go to football practice first thing in the morning and then work all day as a youth camp counselor for about 30 to 40 kids everyday," he says. "Then, I dedicated one night to be at each fire hall. My free time will be reduced now that school is starting, but I will still find time to fulfill my commitments."
After such a hectic summer, Tyler is looking forward to football season.
"We definitely have a young team, but like every other year, the expectation is to get better, win, and exceed what we've done in the past," says Tyler, who hopes to pursue a career as a fulltime emergency responder once he graduates next year. "Even though we're young, we have a lot of talent and are really well-conditioned."
And, as Tyler has learned, knowledge and preparedness make all the difference, whether it's on the football field or when fighting a blazing fire.