The conditions were miserable in Hershey, Pennsylvania, for the 2018 PIAA Class AAA cross country championships. It had rained the night before, and the course was muddy, slippery, and even treacherous in parts, especially when the route sloped downward, and then again as it ascended uphill.
Despite the undesirable setting, the girls' team finished strong in fifth place. Senior Sarena Seeger and boys' runner Christian Fitch, a junior, each finished fifth individually. Grace Sisson, also a junior, ran two miles without a shoe and still managed to earn herself ninth-place.
The other members of the girls' squad included seniors Anna Folkerts and Annika Urban, junior Brooke Krally, and freshmen Gabby Kline and Riley McIntyre. Another freshman, Rachel Grimsley, made the trip as an alternate.
Over the past four years most of the girls, and a few other great runners who have since graduated, won a PIAA crown, advanced to states three consecutive times, been three-time WPIAL runner-ups, and twice captured the section championship twice. They've won numerous team and individual crowns at invitationals sprinkled across the season and had their fair share of runners who have added many medals and trophies to their personal showcases.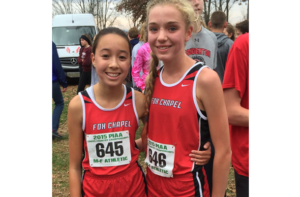 Sarena and Annika are two of those runners. Sarena and Annika both qualified for states all four years of high school. Christian and Grace are following closely in their footsteps with three trips each to Hershey.
"There was a lot of great competition this year," says Coach Tom Moul. "I'm happy with the results. It's just a great experience to be at states. There's nothing else like it."
"It was just a great day," adds Brooke, who will be relied upon next year to be one of the team's leaders.
End of an Era
Riding in the van over to the PIAA course, the girls' team, plus Christian, were playing their favorite warm-up song, "Glorious" by Mackelmore. The girls were crying, but their tears weren't from nerves; they were because this was their last hurrah together. As a team, they had accomplished feats that no other Fox Chapel Area High School cross country team had done in the past.
For the past four years, Sarena and Annika have grown up together and, in more ways than one, been the heart of the squad. They fostered a team identity of fierce competitiveness and hard work, but they can still kid around and have fun together.
Sarena was the team's top runner all year. Her fifth-place finish this year bested her time from 2017 when she finished in 11th place. She says, "The competition this year was unbelievable and full of talent. I think we did a really good job, and did what we were supposed to do. Personally, I wanted to be in the top-five, so I was really happy with my finish. I was in ninth place for most of the race, but at the last uphill before the finish I just really kicked it in and beat as many girls as I could."
Grace's ninth place finish was pretty incredible considering the fact that a competitor behind her stepped on her heel right after the mile mark.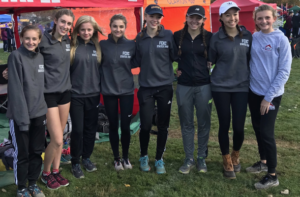 "I definitely had a strong start," says Grace. "But then after she stepped on my shoe, I just kicked it off and kept running. It wasn't too terrible running without it, other than it was really muddy and rocky, and going across the gravel and down the slippery slope was a little difficult. It felt a little weird, but I made it through, and I'm incredibly happy with my finish."
"This has been such a large part of my life," adds Annika, who plans on running cross country and track in college. "I'm really happy to be a part of this (PIAAs), but it's pretty sad to be ending this era."
Coach Moul adds, "We are going to miss them, and it's not only because they are great girls and great runners. Our girls' program has largely grown because of them. But Grace, Brooke, and Christian will be back, and we sent two freshmen to states this year to let them get the feel of such a big race. We'll see who steps up next year. You never know who that might be."
One thing is for sure – whoever contributes to the program in the future will be highly influenced by a great legacy left behind by some very special young women.