When Gregor Meyer was in middle school, he sometimes golfed with older kids who played on the Fox Chapel Area High School varsity team. He impressed them so much that they told their coach, Bryan Deal, about him and his skills. By the time Gregor, now a senior, finally did try out for the team as a ninth grader, everyone was expecting big things from him.
He did not disappoint them then, or now as he wrapped up his illustrious high school career by placing fifth among the state's top 36 golfers at the 2018 PIAA AAA Individual Boys' Golf Championship.
His finish was the highest for the Foxes' boys' program since 1999.
But his most recent coveted medal didn't come before the four-year letter winner gave his coach, and certainly his parents, some concern that the ending might not go as they had hoped.
Day One Challenges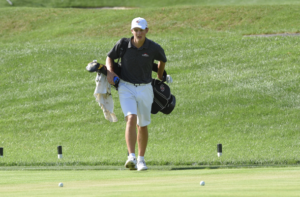 "Gregor had a tough first day shooting a 7 over par 77 in difficult weather conditions," his coach recalls. "After the disappointment of his initial day, Gregor came out firing on day two. He was an impressive 3 under par through his first seven holes at Heritage Hills Golf Resort in York, Pennsylvania."
That is, until he reached the eighth hole.
"I triple bogeyed number eight and that put me back to even par. I was very frustrated giving back three shots," says Gregor, who was the WPIAL individual champion in 2016 as a sophomore. "But I knew this was my last high school tournament ever, and I needed to keep my focus and remain calm and patient."
Overcoming that deficit on the tournament's final day was more than remarkable. Gregor maneuvered an amazing come-from-behind performance that resulted in him moving up nine spots over the previous day.
"He played outstanding!" says Coach Deal. "He showed perseverance, grit, and a lot of mental toughness. He easily could have simply gone through the motions the second day. He is such a competitor that I was confident that wouldn't happen. Shooting a 1 under 70 and earning a fifth place medal were a very fitting and deserving end to his high school career."
Coach Deal also commended Gregor's course management skills. "He always has a game plan for attacking a course and is thorough in his preparation. All four boys who placed higher than him had played the course before, some of them for four straight years. It definitely is an advantage to have two-to-three years' experience in the state tournament."
"The better you prepare, the better you can play, especially since Heritage Hills golf course is very quirky – the greens are fast, there's a good amount of slope to them," Gregor says. "But I'm very satisfied with my finish. My goal was to finish in the top five, so I was really happy."
Many Memories with the Foxes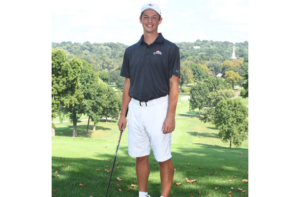 Gregor has played in dozens of tournaments over the course of his teenage years, but says he prefers playing with his high school buddies.
"Playing touring golf gets me into a competitive mindset, but I like high school because it's a team thing," says Gregor. "When you go through achievements together, it's better. We're all very close."
It's not surprising then that Gregor says his best memories are not of his individual accomplishments, or the college invitationals that have led to recruiting offers, but instead, revolve around the close-knit Foxes' golf family.
"For the past three years in preseason, Coach Deal has taken us to Oglebay Park in West Virginia," Gregor says. "We play two days of golf and have spike ball and cornhole tournaments. Coach Deal is on a professional level when it comes to that! It's those times and the team bonding that have been the most fun and memorable."
If he has any regrets at all, it's that his team never won a PIAA championship. Last year, they had qualified for the PIAA team finals, and Gregor had qualified for the PIAA West Region individual championships. Unfortunately, four team members, three of them in the starting lineup, were hurt in a serious car accident. None of them, including Gregor, were able to participate in the championships due to their injuries.
This year, the co-section team champions sent a record five players to the WPIAL AAA individual championships and three to the PIAA West Region individual tournament. They were even more determined to get to states. A team deep with talent, they suffered a heartbreaking loss at the WPIAL AAA team championships and ended up as the WPIAL runner-up, even though they broke the previously existing WPIAL team scoring record.
"We knew it would be a battle between Central Catholic and us," says Gregor with remnant sadness. "We wanted that (win) so badly."
Central Catholic went on to win the AAA state team championship.
Nevertheless, it was a great ride for Gregor. He finished his individual career as one of the most decorated golfers in Foxes' history.
Coach Deals adds, "I'm just really happy for him and his family and the way he finished his high school career."