The sports teams at Fox Chapel Area High School had another great year as was evidenced by the number of individuals and teams that represented the school at the PIAA and WPIAL championships and won section titles. Furthermore, field hockey, boy's golf, girls' lacrosse, and girls' and boys' tennis had perfect regular season records.
Overall, 832 boys and girls at the high school participated in athletics during the 2016-2017 school year and 499 at Dorseyville Middle School. The sports that showed the most increase in participation were boys' and girls' swimming, girls' cross country, and girls' track.
In addition, all high school teams maintained at least a 3.1 grade point average, and 21 seniors were recruited to play sports in college.
Finally, besides the successes at the high school, Dorseyville Middle School also had some noteworthy performances from eighth grade girls' basketball (18-4), seventh grade boys' basketball (18-2,) field hockey (9-2-3), and boys' soccer (13-1-4).
PIAA Champions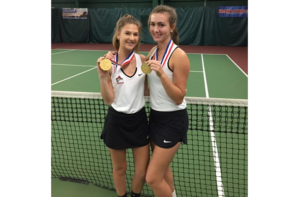 Amanda Nord, Charlotte James ­­– doubles tennis
All-American
Jonah Cagley – diving
Kate Goodwin – lacrosse
Meg McCrady – lacrosse
All-State
Jonah Cagley – diving
Anthony Cordaro – golf
Deena DeBaldo – soccer
Kate Goodwin – lacrosse
Charlotte James – tennis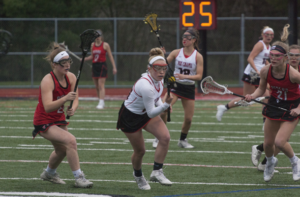 Alex Lawson – golf
Meg McCrady – lacrosse
Amanda Nord – tennis
Abby Pitcairn – field hockey
Paige Ryan –­ field hockey
Michael Snowball – soccer
Dixon Veltri – soccer
WPIAL Champions
Jonah Cagley – diving
Amanda Nord, Charlotte James ­– doubles tennis
Gregor Meyer – golf
Field Hockey
Boys' Tennis
Section Champions
Boys' Basketball
Boys' Golf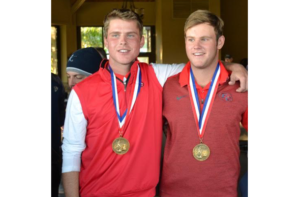 Field Hockey (5th consecutive title)
Girls' Lacrosse
Girls' Soccer
Girls' Swimming
Girls' Tennis
Mike Mahon – wrestling
Robby Shymansky – singles tennis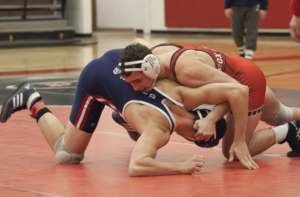 Sports 
Baseball
Record: 4-8 section, 5-15 overall
All-section first team: seniors Nick McRandal, Josh Kieffer
All-section second team: senior Jake Hughes
All-section honorable mention: junior Alex Miles
Nick McRandal – Mercyhurst College recruit
Boys' Basketball
Record: 12-2 section, 19-4 overall
WPIAL playoff qualifier
Section champions
Shady Side Academy Tournament Champions
All-section: senior Jake Livingston; junior Carson Cohen; sophomore Ben Kelly
All-section honorable mention: senior Michael Snowball
Jake Livingston – selected to Roundball Classic team
Jake Livingston, Michael Snowball – selected to Cager Classic team
Jake Livingston – Denison University recruit
Coach Zach Skrinjar earned 100th career victory at FC, named section coach of the year
Girls' Basketball                        
Record: 2-8 section, 9-13 overall
All-section: seniors Gabby Badway, Bryanna Urso
Bryanna Urso – selected to Roundball Classic team
Bryanna Urso, Gabby Badway – selected to Cager Classic
Gabby Badway – Le Moyne University recruit
Bryanna Urso – Allegheny College recruit
Boys' Cross Country
Record: 6-1 section/overall
PIAA individual qualifiers: senior Adam Cook, freshman Christian Fitch
Christian Fitch one of only three WPIAL freshmen to qualify for PIAA championship
Adam Cook – Allegheny College recruit
Girls' Cross County
Record: 6-1 section/overall
PIAA qualifier – first girls' team to qualify in school history
PIAA team members: juniors Caelan Miller and Megan Stafford; sophomores Anna Folkerts, Sarena Seeger, and Annika Urban; freshmen Izzy Doerr, Brooke Krally, Grace Sisson
Sarena Seeger and Annika Urban back-to-back PIAA championship qualifiers; Sarena finished in PIAA top-20, up 10 places from 2015
WPIAL team runner-up – first girls' cross country team in school history
WPIAL championship medalists: Annika Urban, 9th; Sarena Seeger, 10th; Brooke Krally, 14 th
Field Hockey
Record: 12-0 section, 16-5 overall
PIAA team playoff qualifier
Back-to-back WPIAL champions
Section champions
All-state first team: junior Abby Pitcairn
All-state honorable mention: junior Paige Ryan
All-WPIAL: juniors Abby Pitcairn, Paige Ryan, Grace Knepshield
All-section: senior Meg McCrady; juniors Abby Pitcarin, Paige Ryan; Grace Knepshield
Abby Pitcairn – selected to 2017 U17 US Women's National Field Hockey Team
Football
Record: 4-4 section, 5-5 overall
Finished with program's best record since 1997
One of WPIAL's most impressive turnarounds
School record: 51 points in one game
Junior Micah Morris school's first 1,000 rusher in at least 10 years
All-section first team: juniors Riley Michael, Micah Morris
All-section second team: seniors Jack Brown, John Feczko, Alec Patsko
All-section honorable mention: seniors Gary Davis, Conner Romango, Jarett Zaleski; juniors Jesse Cohen, Nick Gizzo
Gary Davis – Westminster College recruit
John Feczko and Houruiyang Zong – Case Western Reserve University recruits
Connor Romango – Bucknell University recruit
Boys' Golf
Record: 11-1 section, 15-1 overall
WPIAL team runner-up by 1 stroke
Section team champions for 27th time
Team broke WPIAL scoring record by two shots
PIAA individual medalists: seniors Anthony Cordaro, Alex Lawson tied for 6th place – best finish for individual players since 1999
PIAA individual qualifiers: Anthony Cordaro, Alex Lawson, sophomore Gregor Meyer
WPIAL champion: Gregor Meyer
WPIAL individual qualifiers and finalists: seniors Anthony Cordaro, Alex Lawson; sophomores Gregor Myer, Grant Thiele
Anthony Cordaro – Lehigh University recruit
Girls' Golf
Record: 4-4 section, 10-5 overall
WPIAL individual qualifiers (most in school history): seniors Ursula Meyer, Kerstin Nestel; juniors Hannah Conroy, Cara Levicoff
Hannah Conroy and Cara Levicoff to return as team's top low scorers
Gymnastics
Record: 1-7 section/overall
WPIAL qualifiers: seniors Sarah Hamilton, Christina Massalski, Taylor Thiele (all qualified on vault, beam, floor); Dixon Veltri (all around, vault); sophomores Nicole Garcia-Tunon (floor), Rachel Himmel (vault), Maggie McCoy (beam, vault) 
Indoor Track
Former club sport now FCASD/PIAA interscholastic program
Girls
New school record: 4 x 800 relay team – junior Caelan Miller; sophomores Sarena Seeger, Annika Urban; freshman Brooke Krally
TSTCA (Tri-State Track and Field Coaches Association) championship medalists: Sarena Seeger 3rd; Annika Urban 4th; Caelan Miller 5th; Brooke Krally 7th
TSTCA qualifiers: distance medley relay team – Brooke Krally, Caelan Miller, Sarena Seeger, Annika Urban, Grace Sisson
Boys
TSTCA qualifiers: senior Adam Cook ((3,000; juniors Andrew Jeffrey (60), Ben Kronman (triple jump); freshman Christian Fitch (mile, 3,000)
Boys' Lacrosse
Record: 4-3 section, 5-10 overall
WPIAL playoff qualifier
All-section: sophomores Graham Childs, Bradley Root 
Girls' Lacrosse
Record: 14-0 section, 20-1 overall
First-year coach Katie Lundberg leads team to first undefeated regular season
PIAA qualifier – first time in school history
PIAA championship quarterfinalists
Program's first appearance at WPIAL championship game
WPIAL runner-up – first time in school history
Section champions
All-American: senior Meg McCrady (second year), junior Kate Goodwin
All-State: Meg McCrady, Kate Goodwin
All-WPIAL: Meg McCrady, Kate Goodwin
All-section first team: Meg McCrady, Kate Goodwin; freshman Mary Ellis
New school records: senior Meg McCrady – career points (353), goals (245), assists (108); draw controls
Kate Goodwin – scored 100 goals this season; ended year with 107 goals, 130 points
Mary Ellis – freshman scored more than 100 points in first year
Meg McCrady – Georgetown University recruit
Ali Wessel – Oberlin College recruit
Boys' Soccer Record: 8-4 section, 9-9 overall
WPIAL playoff qualifier
All-state: senior Michael Snowball
All-WPIAL: Michael Snowball
All-section: Michael Snowball, junior Will Tabor
All-section second team: senior Nathan Wecht, freshman Zane Ingram
All-section honorable mention: juniors Jakob Dunn, Jake Miller, David Sullivan
Michael Snowball – Baldwin Wallace University recruit 
Girls' Soccer
Record: 9-1 section, 16-7 overall
Advanced to PIAA playoffs – first time in 17 years
WPIAL playoff qualifier
Section co-champions
All-state: seniors Deena DeBaldo, Dixon Veltri
All-WPIAL: Deena DeBaldo, Dixon Veltri
All-section: Deena DeBaldo, Dixon Veltri; junior Kate Livingston; sophomores Julie Scheffler, Sarah Sinnott
All-section honorable mention: seniors Mikayla D'Cunha, Maddie Lucey, Bryanna Urso
Alexis Schutzman – received Hines Ward Positive Athlete Award
Bryanna Urso – Positive Athlete Award scholarship (three sports)
Annamarie Alfery – University of Akron recruit
Deena DeBaldo – Duquesne University recruit
Bryanna Urso – Allegheny College recruit
Dixon Veltri – University of North Carolina-Wilmington recruit
Maddie Lucey – Washington and Jefferson College recruit
Coach Peter Torres named co-section coach of the year
Softball
Record: 5-5 section, 8-10 overall
WPIAL playoff qualifier
All-section second team: Calle Zmenkowski
All-section honorable mention: seniors Gretchen Angerman, Alyssa Guzzie, Kerstin Nestel; juniors Tawnya Holben, Brianna O'Malley
Calle Zmenkoski – University of Pittsburgh-Greensburg recruit
Boys' Swimming
Record: 5-2 section, 9-2 overall
Team posts best record in many seasons
WPIAL team championship meet qualifier
WPIAL qualifiers: senior Bohan Yao (200 IM, 100 breast, 50 freestyle, 100 fly); sophomores Colin Hackwelder (500 freestyle), Nathan Roe (100 free)
Girls' Swimming
Record: 7-0 section, 11-0 overall
WPIAL team championship meet qualifier
Section champions for first time in 10 years
School records: Junior Joslyn Filo – 100 fly and 50 freestyle
PIAA qualifier: Josyln Filo
WPIAL qualifiers: seniors Maia Pauley (500 and 200 free and 200 IM); Megan Wiese (500 and 200 freestyle); junior Joslyn Filo (500, 200, 100 and 50 freestyle, 100 fly); sophomores Maria Luciana (200 IM), Annika Urban (500 freestyle); freshmen Jaclyn Filo (200 IM, 100 fly, 100 breastroke), Grace Gackenbach (100 backstroke, 500 freestyle, 200 IM)
Maia Pauley – Pomona College recruit
Diving
PIAA medalist: sophomore Jonah Cagley 3rd place
WPIAL Champion: Jonah Cagley
School scoring record: Jonah Cagley –50 score
WPIAL qualifiers: senior Dixon Veltri; sophomores Jonah Cagley, Kate Eames, Magnus Loeffler; freshman Nate Serkov
Nate Serkov qualifies for WPIAL championship on first set of dives at his first-ever meet
Boys' Tennis
Record: 7-0 section, 17-2 overall
Team advanced to PIAA quarterfinals
WPIAL team champions second consecutive year
Sophomore Robby Shymansky advanced to PIAA quarterfinals
Section team champions
WPIAL singles runner-up: Robby Shymansky
Coach David Prevost, who temporarily came out of retirement this year, won first WPIAL team championship in 56 seasons at Fox Chapel Area
Boys' Team GPA Award winner with 4.123
Girls' Tennis
Record: 9-0 section, 15-5 overall
PIAA team quarterfinals
Team section champs for 21st time in school history
PIAA, WPIAL, and section doubles champions: junior Amanda Nord (third doubles gold medal) and freshman Charlotte James
Individual section singles champion: Amanda Nord
Girls' Team GPA Award winner with 4.077
Boys' Track & Field
Record: 2-4 section/overall
WPIAL individual qualifiers: juniors Kyle Breault (400), John Folkerts (1,600), Andrew Jeffrey (100, 200, 4×1), Won Ho Kang (4×1), Ben Kronman (triple jump), Ryan Weinberger (4×1); freshmen Christian Fitch (3,200), Felix Veser (4×1)
Adam Cook – Allegheny College recruit
Kyle Breault – Edinboro University recruit
Girls' Track and Field
Record: 2-4 section/overall
PIAA individual qualifiers: junior Caelan Miller (1,600); sophomore novice Kate Carnevale (100, 200-meter dash)
WPIAL medalists: junior Caelan Miller – 4th (1,600); sophomores Kate Carnavale – 2nd (200) and 4th (100); Sarena Seeger – 5th (3,200); Annika Urban – 7th (3,200)
WPIAL qualifiers: senior Katherine Kauma, (4×1); junior Caelan Miller (3200); sophomores Abby Baldauf (4×4), Kate Carnavale (100, 200), Hannah Flanders (4×1, 4×4), Sarena Seeger (3,200, 4×8), Annika Urban (3,200, 4×8), Carolyn Veith (4×1, 4×4); freshmen Maddy Keiffer (4×1, 4×4), Brooke Krally (4×8, 3,200), Grace Sisson (1,600)
New school record: Kate Carnavale, 100, 200-meter dash
Maddie Lucey – Washington and Jefferson College recruit
Boys' Volleyball
Record: 2-10 section, 2-12 overall
All-section second team: senior Jerett Zaleski
Girls' Volleyball
Record: 6-6 section, 6-11 overall
WPIAL playoff qualifier
All-section first team: senior Desirae Buccigrossi
All-section second team: seniors Dominique Buccigrossi, Katie Kenney
All-section third team: sophomores Megan Friday, Jess Michel
Wrestling
Record: 2-3 section, 9-4 overall
WPIAL individual champion: senior Mike Mahon (182-pound weight class)
WPIAL qualifiers: seniors Mike Mahon, Bill Myers; junior Juan Morales; sophomore Avery Bursick
All-state academic award third team: Avery Bursick
All-state academic award honorable mention: seniors Mike Mahon, Jared Pegher
Mike Mahon – Waynesburg University recruit
Coach Ron Frank – 400th career wins, third among WPIAL's all-time winning wrestling coaches; wrestling room dedicated in his honor