For the first time in school history the boys' and girls' cross country teams captured their respective section championships together. Both groups finished the regular season with 8-0 records and will participate in the WPIAL championships on October 26, 2017, at Coopers Lake in Slippery Rock, Pennsylvania.
In addition to their unblemished regular season records, earlier in the fall the girls' team also won the Red, White and Blue and Gateway invitationals. The boys placed second at the latter meet.
But claiming their respective champions' titles was a bit more difficult and meant they had to overpower their toughest rivals – Central Catholic and Oakland Catholic – something they failed to do last year and had to settle as section runner-ups.
"We knew if we went out hard and stuck with them we would win," says senior leader Jonathan Folkerts who hopes to pursue running at the collegiate level.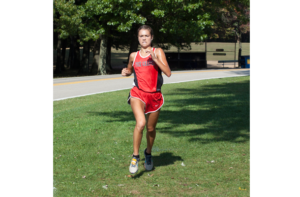 "Our team really wants to be first," adds Caelan Miller, a senior who was a big contributor to last year's team that became the first in school history to advance to the PIAA championships. "We all just work really hard and try to make the most out of each practice to prepare for every meet. It also helps that we all get along really well, even when we're not running. We just have good chemistry and support each other. If we keep doing what we're doing, we'll do well at the Mack Cooper Invitational and then at WPIALs, and that's really exciting."
Also working in their favor is the fact that the girls returned an entire varsity team that has experience at the highest level, the state meet, which will take place this year on November 4.
Whatever the secret to their success may be, it seems to be working. All season, the girls' team and Manheim Township High School have seesawed between the state's top ranking. That ranking may change with the outcome of the Slippery Rock University-hosted Mack Cooper Invitational on October 14. The event is important for several reasons, says Coach Tom Moul.
"We expect most of the top teams in the WPIAL will be at Mack Cooper because it's the only chance for them to run this course, which also serves as the course for the WPIAL championship," he says. "Both our boys' and girls' teams won Mack Cooper last year, so we are hoping for a good finish this year as well."
Foxes' runners give the course – described as hilly and difficult – mixed reviews.
Caelan says, "Personally, I like the course and I think it will be a good race for us," while Jonathan adds, "Based on past experience, I think we do our very best at the Mack Cooper tournament but not at WPIALs. I don't know why, but every year the conditions are pretty bad. It's windy and rainy and not a lot of people get their best times there."
In order to peak just in time for the upcoming tournaments, the athletes now are focused on training.
"They are doing three days of hard workouts and four days with comfortably-paced runs, and Saturdays are longer miles, but at an easy pace," Coach Moul says. "Our top girls are running in the mid-40-mile range and the boys are doing roughly 50 miles a week."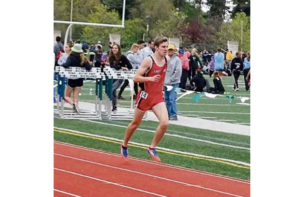 From Jonathan's perspective, however, the secret to reaching the top tier might well be in what they did in the past and not necessarily in what they are doing now.
"By far, the biggest factor in my own growth as a runner was going to our summer practices on a regular basis," says Jonathan. "I didn't do that in the past. As a team, both boys and girls, we had more participation this year and it's made a difference. Summer training can really make or break your cross country season."
In addition to Jonathan, the boys who will compete in the WPIAL championship are juniors Ian Brown, Avery Bursick, and Greg Overbeck; sophomore Christian Fitch; and freshmen Ryan Kenyon and Shane Funk. Both Jon and Christian advanced to the PIAA championships last year.
Setting the pace for the Lady Foxes will be Caelan and fellow senior Megan Stafford; juniors Anna Folkerts, Sarena Seeger, and Annika Urban; and sophomores Izzy Doerr. Brooke Krally, and Grace Sisson. Serena finished 17th at last year's PIAA championships.