Just one of the many things Foxes' opponents learned quickly this season was that when they possess the football, number 44 Chase Villani is going to be in their faces causing havoc every step of the way.
A senior transfer from Shady Side Academy, Chase wasn't even a known entity to the Foxes' coaching staff before he made an about-face late last summer and returned to Fox Chapel Area High School, where he had spent his freshman year.
Chase grew up with many of the Foxes' players, had been good friends with senior captain Luke Brown since elementary school, and had kept in touch with many others, even after he switched schools. So when Chase returned to the James M. Burk Stadium in August, the team was well aware of his tough demeanor on the field, and also in the hockey rink, and welcomed him "home" with open arms.
"I just knew my place was here and felt there was no better way to close out my senior year than with this team, especially since I had decided to drop hockey and concentrate full-time on football," Chase says. "And the fact that we're in the playoffs just makes this year even better."
"Chase is like the gift that keeps on giving," says defensive coordinator Bob Spirio. "In addition to what he's gained in the weight room, he is very athletic and agile with natural strength. He's also a very smart, aggressive player who doesn't turn down at anything, and he has a tremendous nose for the ball. He's really been a stalwart for us."
Indeed.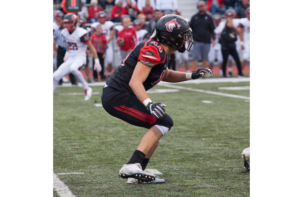 Chase leads the team with 70 unassisted tackles and 17 assists, has an average of 8.6 tackles per game, and has had double-digit tackles in two games, including a season-high team record of 11 solo tackles at the Chartiers Valley game, which the Foxes won handily, 34-18. He also is the single-season defensive leader in tackles since 2010 when Renorvio Holloman had 62.
At 6'3" and 203 pounds, Chase's contributions also were a huge reason why the Foxes could completely smack down Moon Area High School's offense and hold them to a jaw-dropping one yard rushing in a lopsided 42-6 victory.
In all of Tom Loughran's 34 years of coaching, he's never seen something like that happen before and says, "We've had some games over the course of my time that have been close to that, but certainly never that dominate."
Chase, however, wasn't surprised to learn about the defense's record-setting performance.
"I just know when we work together and each and every person works hard, we can do anything and beat anyone," he says confidently. He cites many of his defensive teammates as tremendous athletes who have made great contributions and play fantastically on both sides of the ball. They include Zach Carcy, Scott Hastings, TJ Johnson, Riley Michael, Kory Simmons, Braydon Thomas, Cole Waxter, Jacob Wecht, Drew Witt, and Adam Woo.
Chase's own considerable skills – he also doubles on offense, is the third leading rusher on the team, and scored two touchdowns during the regular season – are the result of years of experience solely at the middle linebacker position and being a passionate student of the game. He spends an incredible amount of time watching film and studying his opponents' tendencies so he can get to the ball quicker. It's something he says is essential in order to reach peak performance.
There's no doubt Chase and his teammates will need to play at the top of their game when they face off against Penn-Trafford at 7:30 p.m. November 3 in the WPIAL 5A quarterfinals. The game will be played at the Warrior's home field.
"Everyday at practice, we all try to make each other better, and we're really putting extra emphasis on that this week," says Chase, who is being recruited by several of the Ivies as well as colleges and universities closer to home. "Going into the playoffs we need to avoid costly penalties and the way to do that is to have discipline and take control early on. We can't let anyone get too far into his own head. But I think we've been pretty consistent all year in keeping each other even-keeled, and we have a lot of players who play really well under a good amount of pressure."